TCM Becoming More Popular With Non-Chinese
HICN
Published: 2021-11-14 13:26:19
The development of Hainan as a free trade port has been attracting people from all over the world to come. In order to facilitate the ability of non-Chinese speakers to seek medical treatment, a number of hospitals in Hainan have opened international medical clinics capable of providing diversified and personalized treatment services.
"You are lacking qi and vitality." After taking the pulse of Daria, Dr. Huang Xinyi (Hainan TCM Hospital director International Medical Clinic, Director) advised her to eat light foods and to maintain a good mood.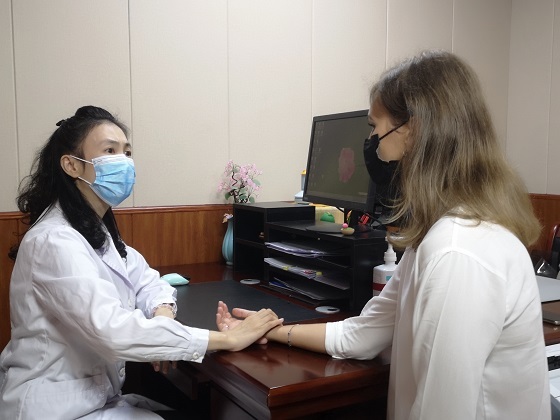 Dr. Huang taking Daria's pulse.

Afterwards, Wu Hao—a physician in the hospital's massage department—gave her an acupuncture treatment. "It hurt a little when the needles went in, but a moment later it actually felt really comfortable" Daria said.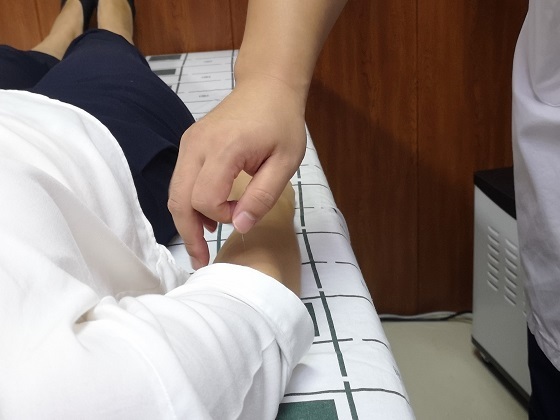 Wu Hao performing acupuncture on Daria.
In 2013, Daria came to Hainan University to study Chinese. During her time in Hainan, she not only learned a lot of Chinese, she also learned about Chinese culture. "I've tried acupuncture, TCM massage, guasha and cupping. I really like TCM because I think it has fewer side effects. When my family and I feel unwell, TCM is our first choice".
According to Daria, she had a very good experience when she first visited the Hainan TCM Hospital's International Clinic. The doctors were very professional and very thorough in explaining her physical situation and required treatments. They also assisted with advance appointments and provide an accompanying translator for non-chinese.
In order to provide non-chinese patients with convenient and fast diagnosis and treatment services, Hainan TCM Hospital's international clinic was established in January 2020. "So as to solve the language barrier problem and difficulties with consultation, our hospital has implemented a kind of one-stop service where our staff will guide and accompany the patient throughout the whole process" said Dr. Huang.
Other hospitals in Hainan which have already set up international clinics include Hainan General Hospital, Haikou People's Hospital, Haikou City People's Hospital, the Sanya TCM Hospital and the Bo'ao Super Hospital.
By Wu Ruolin